Ta wariatka kiedyś nas pozabija – mówią lokatorzy
Opublikowano: 9 lutego, 2015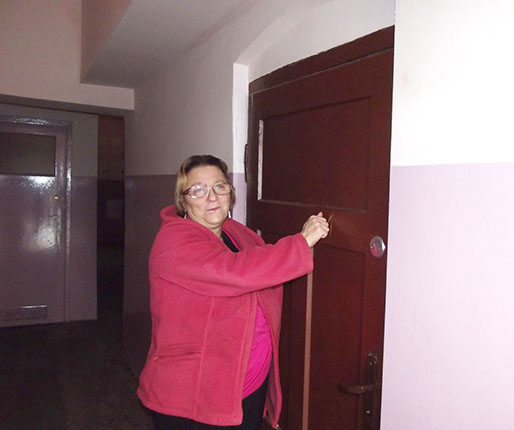 O dreszcze przyprawiają wypowiedzi lokatorów jednej z kamienic w centrum miasta na temat zachowań chorej psychicznie sąsiadki. Niedawno upośledzona umysłowo kobieta rzucała na klatkę zapalone szmaty. To cud, że nie doszło do pożaru. Innym razem ciskała w ludzi gwoździami i słoikami wypełnionymi moczem. Mieszkańcy kamienicy mają dość. Coraz częściej obawiają się o swoje życie.
– Mam rękę w gipsie, boje się, że gdy mnie zaatakuje, nie dam sobie rady.  Jest agresywna. Kiedyś rzuciła się na moją koleżankę i prawie ją pobiła, zaczęła szarpać i krzyczeć – opowiada Małgorzata Petasz, lokatorka kamienicy. – Wiem, że pani Jadwiga ma dość liczną rodzinę. Mieszka z synem, ale już dość długo go nie widziałam. Jeśli nikt szybko nie zajmie się tym problemem, to naprawdę może dojść do tragedii.
Z relacji sąsiadów wynika, że kobieta przebywała w szpitalu psychiatrycznym. Dwa miesiące temu najprawdopodobniej przestała brać leki.
– Niedawno rzucała zapalonymi kulkami z materiału na klatkę schodową. Tego dnia została wezwana policja i lekarz psychiatra. Policjanci wezwali pogotowie, gdy po 40 minutach przyjechał zespół ratownictwa medycznego i zabrał sąsiadkę, wszyscy myśleliśmy, że zostanie zawieziona do szpitala psychiatrycznego w Zgierzu. Niestety, karetka zabrała ja do łęczyckiego szpitala, na SOR, z którego wyszła po dwóch godzinach podpisując niezbędne dokumenty – relacjonuje Anna Włodarczyk, która mieszka nad niebezpieczną kobietą. – Stało się tak dlatego, że w karetce nie było lekarza, tylko ratownik medyczny. Uważam, że w żaden sposób nie można lekceważyć tej sytuacji. Jest osobą chorą, która wymaga natychmiastowego leczenia. Czy mamy czekać do następnego razu, gdy przyjedzie pogotowie? Pytam: kto weźmie odpowiedzialność jeżeli coś się stanie? W takich przypadkach nie można być niczego pewnym. Wczoraj zostałam po raz kolejny zaatakowana, gdy wyjmowałam korespondencję ze skrzynki.
Kobieta, która swym zachowaniem budzi strach wśród sąsiadów, jest pod opieką Miejskiego Ośrodka Pomocy Społecznej. – Robimy wszystko, co wynika z ustawy o pomocy społecznej. Nasze działania polegają przede wszystkim na wielokrotnie przeprowadzanych wywiadach środowiskowych, kontaktach z rodziną, z sąsiadami oraz z wieloma instytucjami, które mogą mieć wpływ na dalsze rozwiązanie problemu, w tym też z lekarzami – informuje Iwona Porczyńska, kierowniczka łęczyckiego MOPS-u. – Gdy zauważyliśmy niepokojące sygnały, nasz pracownik od razu je sygnalizował przekazując informacje do kolejnych instytucji.
Podstawowym problemem jest brak możliwości skłonienia kobiety do leczenia. Jak udało nam się dowiedzieć, rodzina złożyła do sądu wniosek o przymusowe leczenie kobiety w szpitalu psychiatrycznym.
tekst i fot. (MR)
414 odpowiedzi na "Ta wariatka kiedyś nas pozabija – mówią lokatorzy"