Polowanie na pieszych. Posypały się mandaty
Opublikowano: 9 lutego, 2015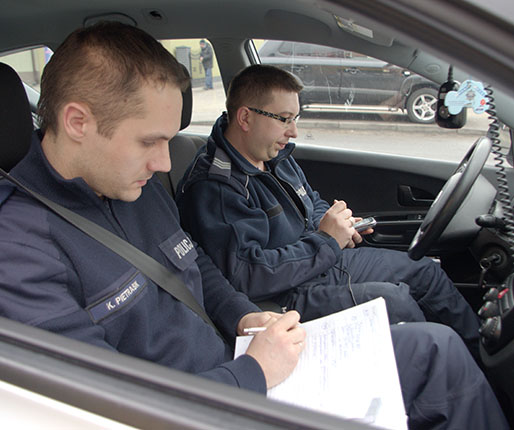 Policja w ramach akcji "pieszy" przez kilka godzin wyłapywała przechodniów, którzy łamali przepisy w ruchu drogowym i nie przechodzili przez jezdnię na pasach. Niestety, funkcjonariusze ze Zgierza nie przewidzieli jednego. Większość przejść dla pieszych jest w mieście praktycznie niewidoczna. Ozorkowianie wyrażali swoje niezadowolenie z tego powodu.
Mieszkańcy w rozmowie z policjantami o startych pasach mówili niejednokrotnie. Oczywiście najwięcej z tego powodu problemów mieli przyjezdni. W takiej mało komfortowej sytuacji znalazła się łodzianka, która postanowiła zrobić z mamą zakupy w Biedronce przy ul. Starzyńskiego.
– Przyjechałyśmy do Ozorkowa na zaproszenie naszych znajomych. Zatrzymałam auto naprzeciwko Biedronki. Rozejrzałam się na boki, ale nie zauważyłam żadnych wymalowanych pasów. Dlatego przeszłyśmy na wprost od razu do marketu – mówi mieszkanka Łodzi. – Nie spodziewałam się, że policja wlepi nam mandaty. Próbowałam tłumaczyć, że przecież nie widać przejść dla pieszych.
To prawda. Stojąc przy Biedronce nie sposób zauważyć pasów na jezdni – zarówno tych przy skrzyżowaniu z ul. Konstytucji 3 Maja, jak i w pobliżu ul. Praga.
– Zdajemy sobie sprawę, że niektórzy mogą się denerwować z powodu naszych działań. Ale pragnę podkreślić, że niestety wzrasta liczba wypadków z udziałem pieszych – mówi sierżant sztabowy Dariusz Rutkowski ze zgierskiej drogówki. – Jeśli chodzi o przejścia dla pieszych, które są zdarte i niewidoczne, to już nie jest nasza wina.
W sprawie startych z jezdni pasów poprosiliśmy o komentarz ozorkowski magistrat.
– Pasy na ul. Starzyńskiego, podobnie jak na innych ulicach zarządzanych przez miasto, malowane są co roku w miesiącach wiosennych, po prowadzonym po zimie "łataniu dziur" w jezdniach – informuje rzeczniczka burmistrza, Izabela Dobrynin.
W środę policja nałożyła w Ozorkowie dużo mandatów za przechodzenie przez jezdnie w miejscach niewyznaczonych. Czy mandatów byłoby mniej, gdyby na drogach przejścia były wymalowane? Tego już się nie dowiemy. Faktem jest jednak to, że przyjezdni nie widząc pasów na jezdni mogą rzeczywiście mieć powody do niezadowolenia z powodu mandatów.
Warto dodać, że w świetle prawa przechodzenie przez jezdnię poza przejściem dla pieszych jest dopuszczalne wówczas, gdy odległość do najbliższego z nich przekracza 100 metrów. W takim przypadku dozwolone jest przejście przez ulicę o ile nie utrudni to ruchu pojazdom. Decydując się na taki ruch pieszy musi sobie zdawać sprawę z tego, że w przeciwieństwie do tzw. "zebry", przechodząc przez jezdnię nie ma pierwszeństwa. Na oznakowanym przejściu pieszy ma bezwzględne pierwszeństwo, a nieudzielenie go przez kierowcę może skutkować wysokim mandatem.
Za przechodzenie w miejscu niedozwolonym grozi mandat od dwudziestu do nawet dwustu złotych.
tekst i fot. (stop)
463 odpowiedzi na "Polowanie na pieszych. Posypały się mandaty"