Tajemnicza śmierć w łęczyckim szpitalu. Matka osierociła miesięczne dziecko.
Opublikowano: 16 lutego, 2015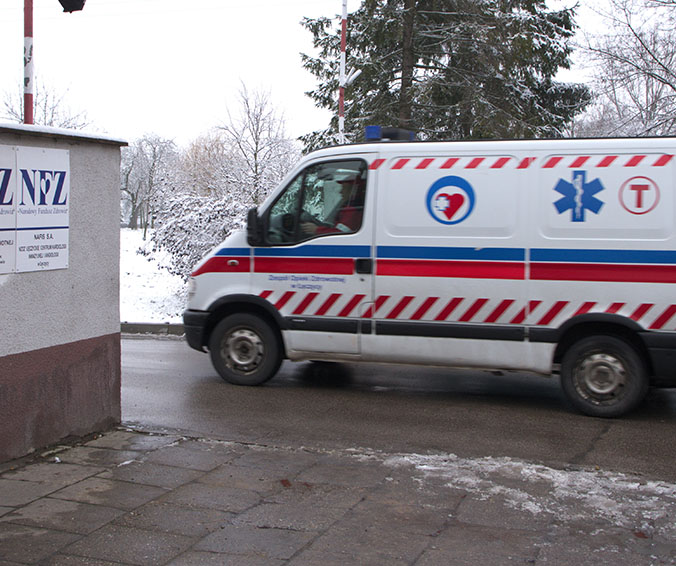 Już w trakcie transportu pacjentki do szpitala w stanie krytycznym, doszło do nagłego zatrzymania krążenia. 36-latka była reanimowana, później przekazana na łęczycki SOR, gdzie kontynuowano próbę przywrócenia akcji serca. Niestety, po ponad półgodzinnej walce o życie młodej kobiety, lekarze stwierdzili zgon.
To dramatyczne wydarzenie, tym bardziej, że pacjentka była mamą niespełna miesięcznego dziecka. Przyczyną zgonu mogły być powikłania poporodowe.
Jak pacjentka z powiatu kolskiego trafiła na łęczycki Szpitalny Oddział Ratunkowy?
– Lekarz oddziału wewnętrznego z Koła zadzwonił do naszego anestezjologa dyżurnego na oddziale intensywnej terapii i poinformował, że przebywa u nich kobieta po cesarskim cięciu wykonanym trzy tygodnie temu. Pacjentka około godziny 18.00 trafiła na oddział wewnętrzny w stanie krytycznym. Przebywała tam kilka godzin. Około 1 w nocy była transportowana do naszego szpitala. W trakcie transportu doszło do nagłego zatrzymania krążenia. Pacjentka była reanimowana przez zespół transportu międzyszpitalnego z Koła do momentu przywiezienia jej na SOR, następnie reanimacja została przejęta przez nasz zespół anestezjologiczno – sorowski. Mimo wysiłków, o godzinie 2.38 został stwierdzony zgon po ponad półgodzinnej reanimacji – relacjonuje Andrzej Pietruszka, dyrektor łęczyckiego szpitala. – Ponieważ do nas pacjentka została przywieziona w sytuacji, gdzie nie mogliśmy praktycznie niczego zdiagnozować, podjąłem decyzję o tym, żeby losami pacjentki już po zgonie zajęły się odpowiednie służby. Wyników sekcji sądowo – lekarskiej nie znam, byłem jednak w obowiązku poinformować policję i prokuraturę, tym bardziej, że sprawa dotyczyła osoby, która miała zaledwie 36 lat. Do nas dotarła pacjentka reanimowana przez zespół transportujący z Koła, nie znam szczegółów dotyczących przeprowadzonego w szpitalu w Kole cesarskiego cięcia.
Co mogło spowodować krytyczny stan zdrowia pacjentki?
Młoda kobieta zmarła prawdopodobnie w wyniku powikłań poporodowych.
– Kobieta zmarła w szpitalu, dlatego została zlecona sekcja zwłok, aby dokładnie ustalić przyczynę zgonu. Przeprowadzi ją Zakład Medycyny Sądowej w Łodzi – informuje Monika Piłat, szefowa prokuratury rejonowej w Łęczycy. – Wyniki sekcji poznamy najprawdopodobniej nie wcześniej niż za miesiąc, ponieważ dołączono bardzo obszerną dokumentację medyczną.
Bez względu na to, co było przyczyną śmierci, niespełna miesięczny noworodek pozostał bez mamy. To ogromna tragedia dla rodziny 36-latki.
Poród poprzez cesarskie cięcie nie jest tylko łatwym zakończeniem ciąży. To bardzo poważny zabieg operacyjny, który może wiązać się z poważnymi powikłaniami, niestety, często zagrażającymi życiu matki lub dziecka. Częstość ich występowania jest zdecydowanie większa niż po porodach naturalnych. Głównie ze względu na tę sytuację cięcia cesarskie na życzenie pacjentki wciąż nie są rekomendowane przez Polskie Towarzystwo Ginekologiczne.
(MR)
436 odpowiedzi na "Tajemnicza śmierć w łęczyckim szpitalu. Matka osierociła miesięczne dziecko."