Zabierz dziecku komputer. To niszczy jego mózg
Opublikowano: 16 lutego, 2015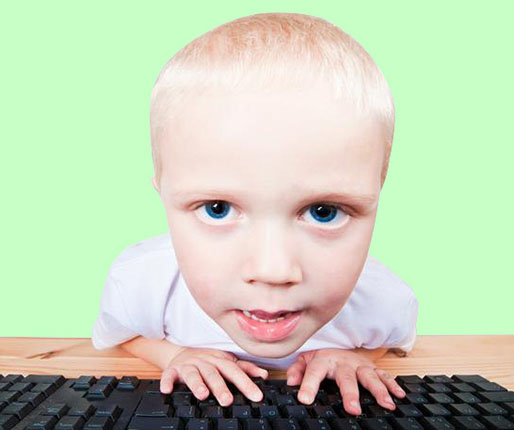 Lawinowo rośnie liczba podopiecznych Poradni Psychologiczno-Pedagogicznej w Ozorkowie. Specjaliści mają do czynienia z zupełnie nowym zjawiskiem chorobowym. Destrukcyjnie wpływają na dzieci i młodzież komputery a także telefony komórkowe.
Depresja, zaburzenia psychiczne, problemy w nawiązywaniu kontaktów z rówieśnikami – to najczęstsze skutki tzw. "choroby komputerowej".
– Rodzice mają, niestety coraz mniej czasu na to, aby zajmować się swoimi pociechami. Co wtedy robią? Znajdują bardzo proste rozwiązanie. Kupują dziecku smartfona, laptopa lub komputer – mówi Ewa Pałasz, dyrektor poradni.
Jak się dowiedzieliśmy, najmłodsi użytkownicy telefonów komórkowych lub też komputerów, którzy potrzebują pomocy psychologów, są uczniami pierwszych klas szkół podstawowych.
– Przyznam, że nie potrafię zrozumieć tego zjawiska. Ta moda na kupowanie takiego sprzętu dzieciom jest bardzo szkodliwa. Kiedyś najbliżsi pomagali w budowaniu prawdziwych relacji. Teraz dzieci żyją w wirtualnym świecie. Osoba uzależniona od komputera wybiera świat internetu, bo łatwiej rozmawia jej się z kimś wirtualnym, niż z realną osobą – uważa E. Pałasz.
Jednym z objawów choroby komputerowej jest narastająca agresja. Dziecko, spędzające wiele godzin przed monitorem, nie ma jak rozładować energii i emocji, które muszą znaleźć ujście. Nastolatkowie potrzebują ruchu, by móc się prawidłowo rozwijać. Przesiadywanie przed komputerem zaburza ich rozwój biologiczny i emocjonalny, a w szczególnych przypadkach, uniemożliwia funkcjonowanie w społeczeństwie.
Choć trudno w to uwierzyć, już co trzecie dziecko ma problemy emocjonalne. Najmłodszy podopieczny Poradni Psychologiczno-Pedagogicznej w Ozorkowie, podejrzewany o chorobę komputerową, ma zaledwie 6 lat.
– Niedawno musieliśmy pomóc rodzicom gimnazjalisty, który jest uzależniony od komputera. Gdy rodzice chcieli wyłączyć mu komputer, chłopiec wpadł w histerię – słyszymy.
Poradnia zajmuje się również coraz częściej uzależnieniami nie tylko od komputera. Jeszcze nigdy nie było tyle przypadków uzależnień od używek.
– Przychodzą do nas rodzice uczniów ostatnich klas szkół podstawowych, którzy mają ogromny problem. Okazuje się, że ich dziecko zaczęło już eksperymentować z narkotykami. W gimnazjach problem z narkotykami jest jeszcze większy a w liceum staje się czymś powszechnym – mówi dyrektor Ewa Pałasz.
W poradni psychologiczno-pedagogicznej zarejestrowanych jest obecnie ponad 800 podopiecznych. Średnio w ciągu roku przybywa ok. 200 nowych pacjentów.
• Rodzaje uzależnień
Erotomania internetowa – objawia się głównie oglądaniem filmów i zdjęć o tematyce pornograficznej oraz prowadzeniu rozmów związanych z seksem za pośrednictwem internetowych czatów. Zjawisko to jest to szczególnie groźne, gdy treści pornograficznej trafiają do osób małoletnich bądź do osób mających zaburzenia w sferze emocjonalnej. Kolejnym przejawem erotomanii są zaburzenia związane z dewiacjami seksualnymi, np. z pedofilią, zoofilią, ekshibicjonizmem itp. W Internecie działa wiele stron o tego typu charakterze, jednak z uwagi na to, że większość witryn zarejestrowana jest w krajach mających bardziej liberalne prawo niż w Polsce, organy Policji nie są w stanie nic zrobić w tym temacie.
Socjomania internetowa – polega na uzależnieniu od internetowych kontaktów społecznych. Uzależniona osoba nawiązuje nowe kontakty wyłącznie za pośrednictwem Internetu. Cechują ją zazwyczaj rozchwiane relacje z innymi ludźmi w kontakcie osobistym. Osoba cierpiąca na socjomanię internetową potrafi przez wiele godzin rozmawiać z innymi osobami w sieci, ale jednocześnie ma ona problemy w nawiązaniu kontaktów osobistych. Zazwyczaj rozmowy te są prowadzone w jednym i tym samym pokoju internetowym. Uzależnione osoby cechuje też brak umiejętności komunikacji niewerbalnej. One same albo nie potrafią odczytywać informacji niewerbalnych albo też odczytują je w błędny sposób.
Uzależnienie od sieci – polega na stałym przebywaniu w sieci. Uzależnienie to przypomina uzależnienie od komputera, z tą różnicą, że polega ono na przebywaniu w sieci. Uzależnione osoby cały czas są zalogowane w sieci, kontrolując na bieżąco wszystko, co się tam dzieje. Ten rodzaj uzależnienia łączy w sobie wszystkie inne omówione wyżej formy.
Przeciążenie informacyjne – polega na przeciążeniu w skutek natłoku informacji. Występuje u osób, które korzystają jednocześnie z wielu list dyskusyjnych bądź rozmawiają jednocześnie z wieloma osobami.
Uzależnienie od komputera – polega na stałym używaniu komputera. Uzależniona osoba nie musi koniecznie korzystać z Internetu. Ważne dla niej jest to, żeby spędzać czas przy komputerze.
Uzależnienie od gier stanowi jedną z form uzależnienia od Internetu. Zjawisko to nasila się w szczególności w tych rodzinach, w których rodzice mają mało czasu dla dzieci. Ponieważ dzieci spędzają wolny czas przy komputerze, rodzice są zadowoleni z tego, że dziecko jest grzeczne, nie zadaje się z nieodpowiednim towarzystwem i ogólnie, że jest pod kontrolą. Jeśli dostrzegają zagrożenie, zazwyczaj jest już zbyt późno. Dziecko najczęściej straciło już kontakt z rzeczywistością, oddaliło się od rówieśników i wymaga pomocy specjalisty.
źródło: chip.pl
tekst i fot. (stop)
647 odpowiedzi na "Zabierz dziecku komputer. To niszczy jego mózg"