Nasza akcja obnażyła wiele niedociągnięć
Opublikowano: 9 lutego, 2015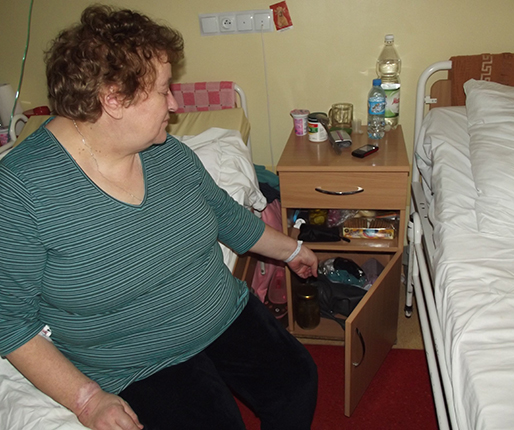 W szpitalu, pomimo wielu kamer i medycznego personelu, złodzieje mają prawdziwe eldorado. Udowodniła to nasza ubiegłotygodniowa wizyta w lecznicy. Nie zatrzymywani przez nikogo mogliśmy swobodnie chodzić po oddziałach, zaglądać do sal. Widzieliśmy jak nieświadomi pacjenci zostawiali na szafkach torby a nawet portfele.
Nie ma się co dziwić, że co jakiś czas słyszy się o kradzieżach w szpitalu. Co z tego, że są kamery. Zarówno lekarze, jak i pielęgniarki wcale nie zwracają uwagi na gości. Szpital jest wyjątkowo przyjazny i otwarty, choć w tym przypadku to duży minus.
– Wcześniej nigdy bym się nie spodziewała, że w takim miejscu może być niebezpiecznie. Teraz, to niestety norma i dlatego nigdy nie zostawiam torby na wierzchu i nie mam przy sobie żadnych kosztowności. W portfelu mam pieniędzy tylko trochę, na drobne potrzeby – opowiada pacjentka łęczyckiego szpitala.
– Bardzo dobrze, że mówi się o takich rzeczach i że dziennikarze interesują się takimi sprawami – słyszymy od kolejnej pacjentki. – Zdarzają się kradzieże w szpitalu a ludzie naprawdę nie zdają sobie z tego sprawy, zwłaszcza osoby starsze i schorowane, których w szpitalu jest najwięcej. Na naszej sali leżymy we trzy, jedna pani jest tutaj praktycznie cały czas i wychodząc zawsze prosimy, żeby zwróciła uwagę na nasze rzeczy. Idąc do szpitala nie zabiera się ze sobą zbyt dużo pieniędzy a dokumenty nie powinny być w portfelu.
Dyrekcja szpitala zdaje sobie sprawę z tego, że kamery nie rozwiążą problemu kradzieży.
– Ważne są czynności podejmowane przez personel medyczny na poszczególnych oddziałach. Pacjenci także powinni pamiętać, że gdy wychodzą z sali należy poprosić osobę z sąsiedniego łóżka o zwrócenie uwagi na ich szafkę, można też powiedzieć o tym pielęgniarce – mówi Andrzej Pietruszka, dyrektor łęczyckiego szpitala.
tekst i fot. (MR)
486 odpowiedzi na "Nasza akcja obnażyła wiele niedociągnięć"