Bieda aż piszczy. Dramat podopiecznych MOPS
Opublikowano: 9 lutego, 2015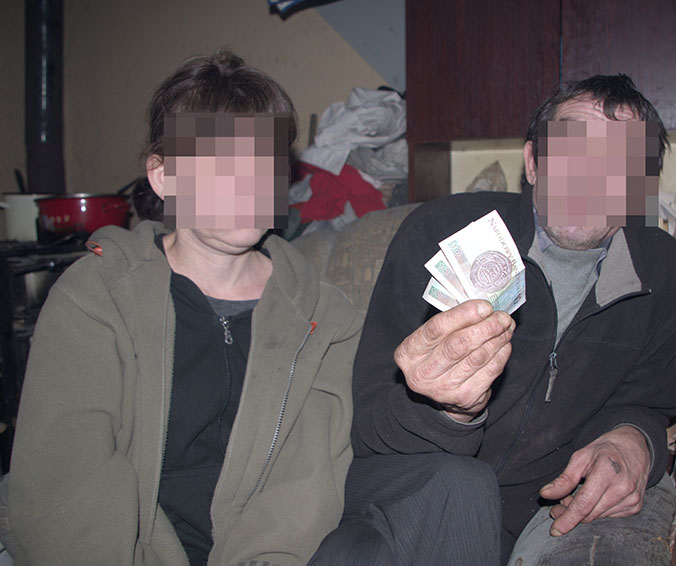 To skandal, że niektórzy mieszkańcy zostali pozostawieni sami sobie i muszą codziennie martwić się o to, jak przeżyć. Z informacji przekazanych przez podopiecznych Miejskiego Ośrodka Pomocy Społecznej wynika, że zasiłki nie są wypłacane regularnie.
Grzegorz M. (nazwisko do wiadomości redakcji) twierdzi, że w styczniu nie otrzymał z ośrodka żadnych pieniędzy. Na początku lutego dostał zasiłek w kwocie zaledwie 206 złotych. W podobnej sytuacji znalazło się wielu ubogich na próżno czekających na konkretne działania ze strony władz miasta.
30 ZŁOTYCH NA MIESIĄC
MOPS podlega bezpośrednio urzędowi miasta. Rzeczniczka burmistrza, gdy zapytaliśmy o  nieregularne wypłaty zasiłków, tak skomentowała sprawę.
– Urząd Miejski otrzymuje środki na zasiłki z Urzędu Wojewódzkiego. W dniu, gdy środki te pojawią się na koncie urzędu, są natychmiast przesyłane do MOPS. Burmistrz nie otrzymał informacji o problemach w zakresie terminów wypłaty zasiłków – informuje Izabela Dobrynin.
Mieszkańcy, którzy od lat poszukują stałej pracy, urzędowe odpowiedzi taktują sceptycznie.
– Urzędnicy są bardzo daleko od naszych codziennych problemów – mówi Grzegorz M. – A ja się pytam, jak mam przeżyć przez 2 miesiące za 206 złotych? Spóźniony zasiłek, który niedawno otrzymałem z MOPS, praktycznie w całości wydałem na spłatę długu za czynsz i media. Musiałem oddać też pieniądze, które wcześniej pożyczyłem na zakup żywności. Na przeżycie zostało mi 30 złotych.
KOŚCI NIE DLA PSA
Niestety. Dziś to normalne, że emeryci i renciści wraz z bezrobotnymi chodzą po sklepach w poszukiwaniu darmowych kości. Nie dla psa, a dla siebie. Bieda odziera ze wstydu. Gdy jest się głodnym, nie myśli się o godności.
– Są jeszcze dobrzy ludzie, którzy ratują takich jak my – mówi podopieczny MOPS w Ozorkowie. – Mam zaprzyjaźniony sklepik i zawsze mogę liczyć na darmowe kości. Bez takiej pomocy naprawdę byłoby ciężko.
Najubożsi mieszkańcy skarżą się nie tylko na – jak usłyszeliśmy – nieterminowe i zbyt małe zasiłki, ale także posiłki wydawane przy gimnazjum.
– Najgorszy jest rosół, choć z rosołem ten ersatz nie ma nic wspólnego. To woda do której dodawany jest bulion. Po prostu ohyda…
Co na to magistrat?
– Nie wiem, jak wygląda i smakuje rosół w stołówce i nie będę się wypowiadać w imieniu osób, które znają temat i są do tego upoważnione (kucharki, dyrektor Gimnazjum, MOPS). Do burmistrza, sekretarza, skarbnika, wydziału merytorycznego nie dotarły niepokojące sygnały ws. rosołu – odpisuje na nasze pytanie rzeczniczka burmistrza Ozorkowa.
– To rzeczniczka ma szczęście, że nie musi tego próbować. A może powinna? – kwituje podopieczny ośrodka pomocy społecznej. – Jeśli w urzędzie nie wiedzą jak smakuje ten pseudorosół, to zaniosę tam zupkę.
MOPS milczy
Do tej pory nie otrzymaliśmy odpowiedzi z Miejskiego Ośrodka Pomocy Społecznej. Zapytaliśmy o regularność wypłat zasiłków, jakość posiłków wydawanych najuboższym oraz o talony na opał, które podobno nie są przyznawane podopiecznym starającym się o taką pomoc.
Do sprawy powrócimy.
(stop)
496 odpowiedzi na "Bieda aż piszczy. Dramat podopiecznych MOPS"