Mieszkańcy Leśmierza walczą o ośrodek zdrowia
Opublikowano: 9 lutego, 2015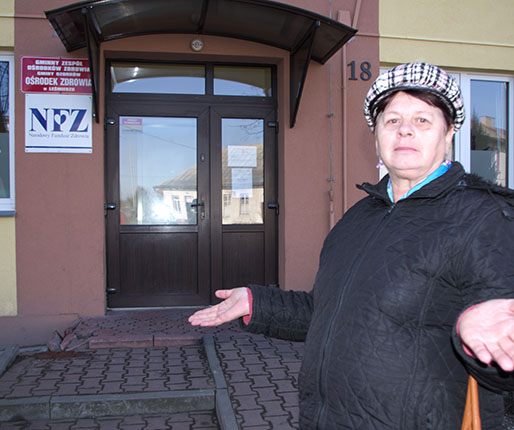 Jeśli dalej tak pójdzie, to nasz ośrodek zdrowia zostanie zlikwidowany – twierdzą zaniepokojeni mieszkańcy, którzy o sprawie rozmawiali już z wójtem. Faktycznie, sukcesywnie z ośrodka wycofywani są specjaliści, których dyrektor placówki kieruje do przychodni w Sokolnikach. Dlaczego tak się dzieje?
W Leśmierzu życie toczy się powoli. Odkąd zlikwidowana została miejscowa cukrownia, z miejscowości uciekają młodzi ludzie. Starsi mieszkańcy pogodzili się już z brakiem perspektyw, jednak nie potrafią zrozumieć decyzji dyrektor ośrodka zdrowia.
– Dla nas działanie pani dyrektor jest szkodliwe. Jak można wszystkich specjalistów kierować do Sokolnik? – pyta Elżbieta Janikowska. – Wiadomo, że emeryci czy też renciści tak łatwo nie dostaną się do przychodni w Sokolnikach. Brakuje autobusów, które jeżdżą w tamtym kierunku a nie wszyscy posiadają samochody. To naprawdę jest dla nas ogromny problem. Boimy się, że ośrodek zdrowia w Leśmierzu będzie zlikwidowany.
Mieszkańcy krytykują w dość mocnych słowach kierowanie lekarzy specjalistów do ościennej przychodni zdrowia. Podczas niedawnego spotkania z wójtem gm. Ozorków temat ośrodka zdrowia w Leśmierzu był dość szeroko omawiany.
– Nie może tak być, że pani dyrektor z niewiadomych przyczyn wycofuje potrzebnych specjalistów, którzy powinni być na miejscu – uważa Małgorzata Gutkowska. – Mamy nadzieję, że wójt podejmie decyzję, która będzie korzystna dla ośrodka zdrowia w Leśmierzu.
Jakie są powody kierowania specjalistów do Sokolnik? Postanowiliśmy to sprawdzić. Niestety, dyrektor ośrodka zdrowia nie było.
– Pani dyrektor jest w biurze w Ozorkowie – usłyszeliśmy w redakcyjnej słuchawce. – Zresztą szefowa nie ma czasu dla gazety.
Szkoda. Mamy nadzieję, że pani dyrektor Żytko znajdzie czas na rozmowę z zaniepokojonymi pacjentami.
Jadwiga i Jerzy Łuszczyńscy również nie potrafią zrozumieć personalnych decyzji szefowej ośrodka zdrowia.
– Zabrała do Sokolnik neurologa, dermatologa, okulistę – wymieniają mieszkańcy. – Sama pojawia się w Leśmierzu tylko w poniedziałki. Praktycznie zostaliśmy pozbawieni fachowej opieki lekarskiej.
W urzędzie gminy 19 lutego dojdzie do spotkania ws. ośrodka zdrowia w Leśmierzu i decyzji dyrektor Żytko.
– Oczywiście na spotkanie będzie zaproszona pani dyrektor. Chciałbym dowiedzieć się jakie były powody zmian kadrowych i przesunięcia specjalistów do przychodni w Sokolnikach – mówi wójt Tomasz Komorowski. – O tym problemie rozmawiałem też niedawno z mieszkańcami Leśmierza. Na pewno kwestia związana z opieką lekarską będzie wyjaśniona.
tekst i fot. (stop)
555 odpowiedzi na "Mieszkańcy Leśmierza walczą o ośrodek zdrowia"