Burza w szklance wody czy trup w urzędowej szafie?
Opublikowano: 16 lutego, 2015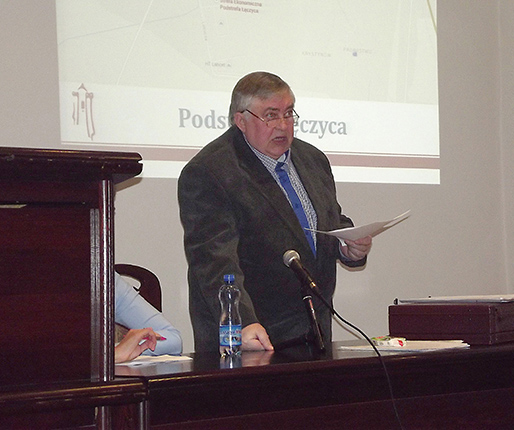 Decyzją rozporządzenia Rady Ministrów około 4 ha terenów inwestycyjnych zostało wyłączonych z łęczyckiej podstrefy ekonomicznej w styczniu 2013 roku. Sprawa wywołała ogromne poruszenie wśród nowych władz, tym bardziej, że nikt o niczym nie wiedział.
Informacja wyszła na jaw podczas spotkania burmistrza Łęczycy z zarządem Łódzkiej Specjalnej Strefy Ekonomicznej, które odbyło się tydzień temu. – "Pan jest burmistrzem i pan nie wie, że już nie macie terenów na strefie?" Tak mi powiedziano – relacjonuje burmistrz Krzysztof Lipiński. – Otrzymałem taką informację, że 22 stycznia 2013 roku rozporządzeniem Rady Ministrów ta podstrefa, czyli Kompleks nr 2 został zlikwidowany z powodu braku zainteresowania ze strony samorządu.
Na czym polega problem?
Tereny należące dotychczas do łęczyckiej podstrefy dalej są własnością miasta (za wyjątkiem działki odsprzedanej pierwotnemu właścicielowi), nie są już jednak terenami inwestycyjnymi. W chwili obecnej miasto Łęczyca nie ma żadnych terenów, które mogłoby zaoferować potencjalnym inwestorom. Co należy zrobić? Odkupić ziemie od rolników. – Trzeba znaleźć pieniądze, nie wiem jeszcze skąd, żeby odkupić działki od prywatnych osób. Prawdopodobnie trzeba będzie gruntownie przebudować budżet – informował podczas nadzwyczajnej sesji burmistrz miasta. – Teraz 1mkw. ziemi będzie kosztował 70 zł, co daje 700 tys. zł za hektar. Musimy znaleźć kilka milionów złotych, żeby kupić kilkadziesiąt hektarów ziemi i te hektary w miarę szybko uzbroić. W chwili obecnej nie mamy ziemi, nie mamy promocji, nie mamy pracy. Kolejny, największy trup wypadł z szafy urzędu miejskiego w Łęczycy.
Nie dla wszystkich informacja o pozbawieniu miasta wolnych terenów inwestycyjnych była nowa, ani tym bardziej szokująca.
– Pan burmistrz rozpętał, nie wiem dlaczego, burzę w szklance wody. Strefa w Łęczycy istnieje, nie została zlikwidowana. W Kompleksie nr 2 będącym częścią podstrefy nie ma ani jednej działki, o której dziś mówimy i pokazujemy na tym slajdzie. W 2008 roku tego nie ma w ogóle. Musiało zniknąć dużo wcześniej – twierdził radny Kulesza. – Mamy sytuację, że mówimy o jakiejś strefie, która według rozporządzeń nigdy nie powstała w tym miejscu. Proszę się nie dziwić, to nie ja Państwu przygotowałem do przedstawienie.
Co na takie stwierdzenie odparł burmistrz? – Nie uważam żeby premier Polski był debilem i zlikwidował coś, czego nie ma. Jeżeli coś zlikwidował to uważam, że to było – skomentował K. Lipiński. – Nie chcę tracić czasu na spieranie się na Dzienniki Ustaw. Kogo to obchodzi? Problem jest poważny, bo nie mamy terenów inwestycyjnych.
Dlaczego w Łęczycy zlikwidowano część podstrefy?
Tereny niewykorzystywane pod inwestycje zarząd Łódzkiej Specjalnej Strefy Ekonomicznej uznał za niepotrzebne, tym bardziej, że jedna z działek została odsprzedana poprzedniemu właścicielowi. Brak inwestorów doprowadził do wyłączenia działek z terenów podstrefy.
Prawdopodobnie zostanie powołany specjalny organ, który dogłębnie wyjaśni sprawę odłączenia od strefy działek inwestycyjnych. Wyjaśniona ma zostać także sprawa przemilczenia przez urzędników faktu odebrania terenów w podstrefie. Radny Marcin Zasada sugerował przeprowadzenie w urzędzie audytu, który miałby sprawdzić kompetencje pracujących w nim osób.
Łęczycan nie obchodzą ani dzienniki ustaw, ani urzędowe spory. Dla mieszkańców najważniejsze są nowe miejsca pracy i poprawa warunków życiowych. Na tym właśnie powinny się teraz skupić wszelkie działania władz miasta.
tekst i fot. (MR)
505 odpowiedzi na "Burza w szklance wody czy trup w urzędowej szafie?"